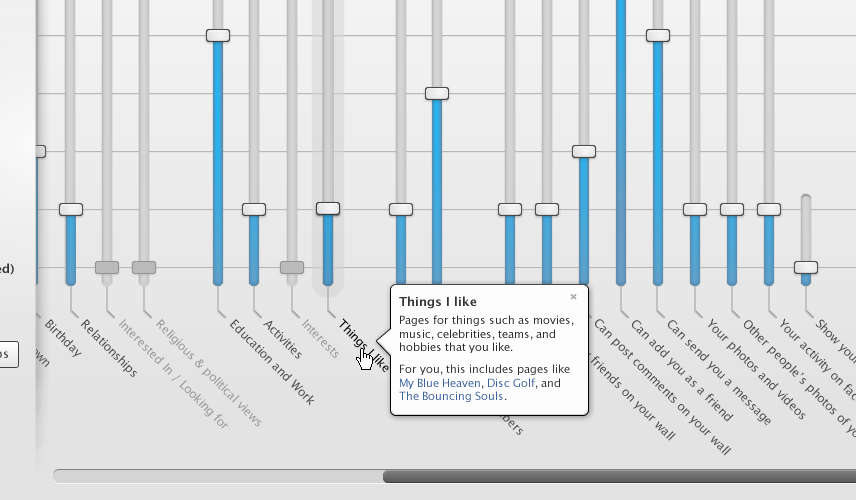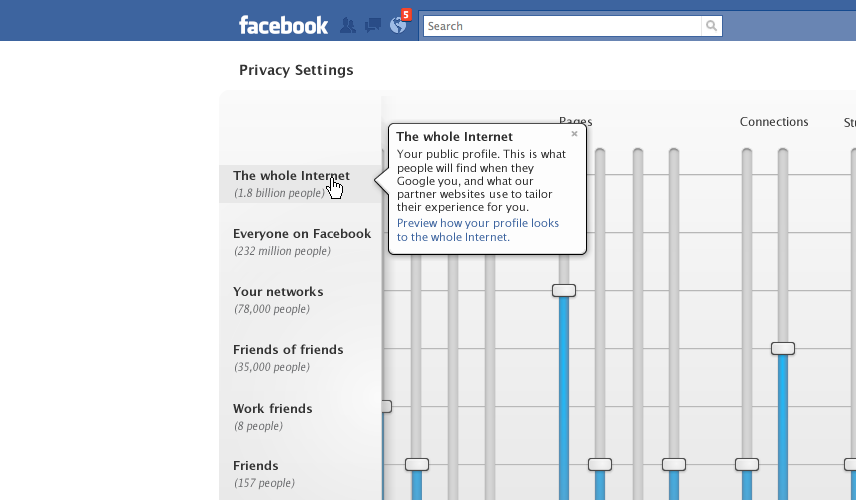 Facebook Privacy Settings Concept
Fortune Online
As facebook has become the dominant social network, its shifting privacy policies have received a lot more scrutiny. This was particularly the case when several new features were rolled out that exposed more information about its users than ever before with "share to all" as the default setting. At the same time, people have accused facebook of intentionally occluding the controls for managing privacy settings to make more content available.
Fortune magazine jumped on this public perception, and invited several designers, including Mike, to take a shot at what facebook's privacy settings should be.
The basic concept borrows from an audio equalizer, essentially allowing users to "turn down the volume" of how loud they are on the Internet. Most people on Facebook don't object to sharing—after all, it's why they signed up in the first place. Their objection is information being shared without their awareness or permission. This solution offers a better way to see in one view what is being shared and with whom.
Finally, a clear "opt out of facebook" button makes it clear that no one is being held hostage, and you free to leave at anytime. Consider it facebook's money-back guarantee.
Overall the concepts were quite popular, with Mike's concept being voted the favorite. Facebook has since implemented improvements in clarity to its settings.
Read the original article at Hey Facebook! Here's Your Privacy Redesign.
CREDITS
Work by Michael Jones for Smart Design, in collaboration with Alice Pintus.
View All Projects